Today was the last work day in Hyderabad. I decided to leave the office at 4pm since things were pretty well wrapped up. We had a final lunch together at the campus cafeteria. Oh and be 'we' I mean the guys. Evidently the ladies on the team don't usually dine with the guys. I'm not sure if that's a cultural thing, or if they just don't like each other.
Good food at the cafe, and cheap too!  One day I had a heaping tray of vegetarian biryani, raita (cucumber sauce), a small cucumber salad and some bread for only 45 Rupees, which was about 75¢ US. The most I spent was INR135 on a kebab, biryani and chicken dish with naan (baked flat bread). That was the range I spent on food so far.
On returning to the hotel, I found the courtyard abuzz with activity. The Indian Endoscopic conference was just starting, and cars and people were mulling around. I also spotted what I assume are 3 Indian Army soldiers, in their distinct splotchy camouflage fatigues. One had a rifle. I decided maybe tonight isn't the best time to venture out beyond the gate for a walk.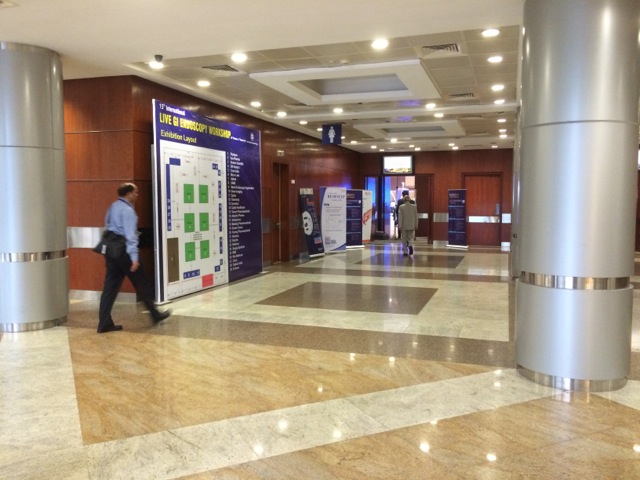 Just as well anyhow. The hotel is located in a weird place. It's surrounded by swamp and open field, plus the myriad half-finished buildings and small enclaves of tents. So, there wasn't really much I was missing out on. That and the hoard of potentially malaria-carrying mosquitos that call the swamp home sealed my decision.
So, I'm stuck inside.
I did manage to just go walk around the grounds for a while. I do need some exercise, and it is very pleasant tonight, 86° and gentle winds. Not too bad! I even got a glimpse at the sunset. So all tolled, not a bad evening. I'll probably work for a bit then head on down to the Premier Lounge for some snacks. I'm too full for a full meal.

Tomorrow morning my travel partner and I discussed going on a short tour, but he's not feeling well tonight. Seems he has not had the best of luck gastrointestinal-ly in India. I should have told him about the endoscopy conference. I'm not sure if I'm willing to venture out on my own, after seeing a lot of Hyderabad already on the journey to and from work. Besides, the flight is at 5pm, so I need to be here at 2:30. I don't know…I'm on the fence. I feel a bit adventurous, but my spidey-senses are telling me to err on the side of caution and just stay around here.