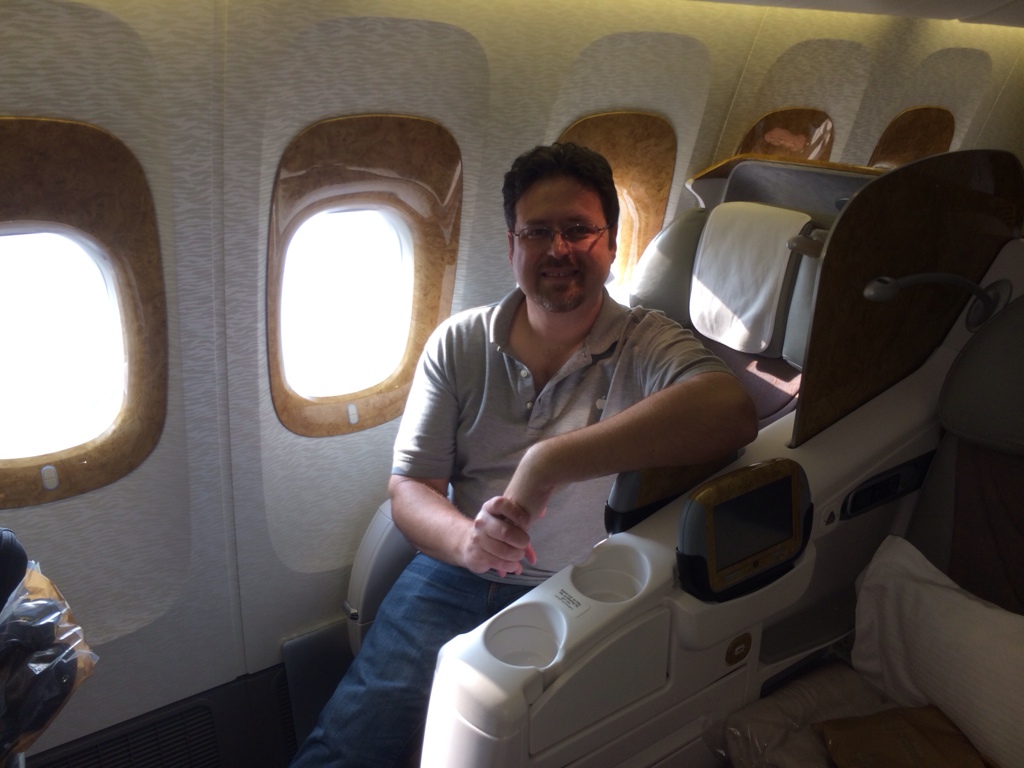 Well, here I am back safely ensconced in my pod. I spent the last day in Bangalore watching cricket and walking around a bit outside. Since you really couldn't walk too far, I did circuits between the train bridge and the first street Intersection of Death.
After that, a nice filling meal at the buffet (loved the Queen's Pudding), an hour workout at the gym and more cricket.
The driver was a few minutes early (1:10am), so I headed out and slumped into the very nice car (again from Emirates), and watched the city pass by one last time on the 45 minute drive to the airport.
The trip went well, but it's hard to work during the day in India, then try to catch up on normal work in the evening. A happy consequence was that the time did pass by quickly.
So what did I think of my first trip to India? It was a unique experience, certainly. Sheila and I have seen abject poverty before, but I saw some very hard conditions. The one thing that struck me was that it was a quiet poverty. In some Indian cities, almost half the population lives below the poverty line. I believe that in Hyderabad that number is around
15-20%, and 10% in Bangalore.
I really didn't see that much of it passing along the central streets between work and the hotel. There were just a few blue plastic tarp "tent cities" that I actually saw. The residents went about their daily ritual with vigor, although I can't begin to understand their experience. I think maybe I should try harder to.
Other that that, both cities are bustling as they continue to quickly evolve in the ever-growing computer age. I saw towering concrete pillars of windows and steel, built to house the silicon onslaught, that shadowed tent city denizens as they showered at the local fire hydrants. I lost count of the number of autorickshaws and motorbikes that whizzed by, either set of which absolutely outnumber conventional cars on their own.
I've met the friendly face of India, smiling, helpful and unassuming. A perfect example of dharma and the living testament of the Vedas. Amid all the chaos I saw a serene beauty in the people. How can anyone have a better experience?